An Exclusive Offer for Your Local
Chamber of Commerce!
HOW TO BUILD A 5-STAR
REPUTATION ONLINE!
✓
Learn Why Reputation Matters
✓
Discover New Reputation Trends
✓
How To Earn Your 5-Star Reputation
✓
Leverage Reviews To Get Customers
"
Over 90% Of Consumers Say That A Business'

Reputation Is A Factor In

Making A Buying Decision
"
Free Exclusive Report Reveals
"The Secret To Earning A 5-Star Reputation"
"
58% of Consumers Say the Star Rating of a Business is Most Important

"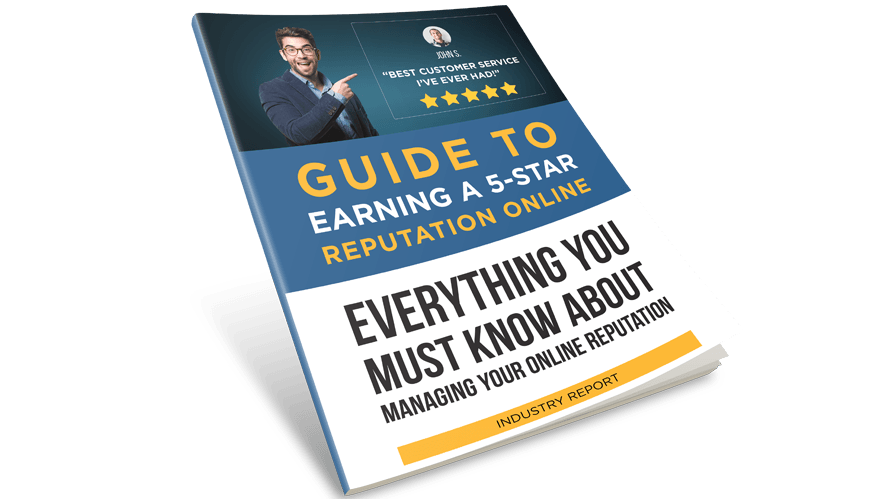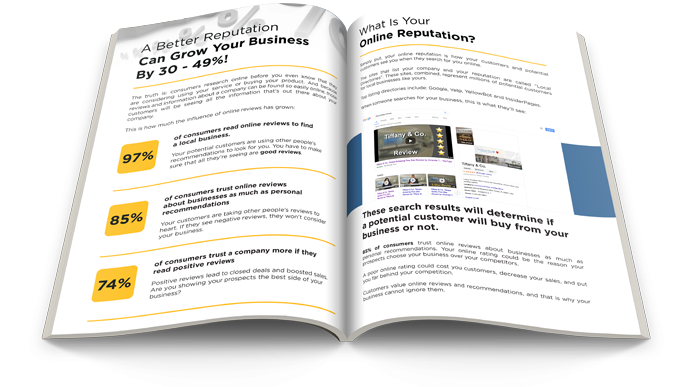 We Hate SPAM and promise to keep your email address safe
What Is Online Reputation?
How your customers and potential customers see you in online directory searches can have a massive impact on the amount of business you attract.




What's The Fastest Way To Get 5 Star Reviews?
The best way to get 5-star reviews is to ask for them! Too often, only frustrated customers leave reviews. Our Reputation Marketing Services will show you how to convince your best customers to leave you positive reviews quickly. Let us show you how to get FIVE 5-star reviews in under 5 days!
Is Your Online Reputation Holding You Back?
See all the issues your business is facing with its online presence, visibility, and reputation and learn how to fix it!
Build Your Reputation and Capture New Customers
We'll help you get more reviews, manage the bad ones, and provide the ability to market your 5-star reputation to send customers flocking to your door.
Have You Considered What a Poor Review Profile Costs?
Use Our Calculator to Estimate How Improving
​Your Online Rating Can Boost Your Bot

​

tom Line
What Can An Improved Reputation Do For Your Business?

Reputation Marketing ROI Calculator
* A 2011 Harvard Business School study shows EACH additional Star on Yelp increases Revenue by 5-9%
An Offer for Chamber of Commerce Leaders
BECOME A MARKETING PARTNER TODAY TO MAKE THIS
PROGRAM AVAILABLE TO YOUR MEMBERSHIP
ONCE YOU UNDERSTAND THE VALUE
YOU NEED A SOLUTION
Our Online Reputation Management Platform is the Gold Standard
Robust Platform
Our proprietary technology is so good, the competition uses it in their service. Our amazing feature set streamlines and automates the process of managing your online reputation.
Educational Series
Members using our platform get exclusive FREE access to our training series on business marketing topics. New courses added monthly.
Increase Brand Awareness
Our platform helps you capture a regular flow of customer reviews, and then boosts your online visibility through smart marketing of those testimonials. We'll help you create an online omnipresence.
Rise Above the Competition
85% of consumers read reviews for local businesses. Make sure you stand out with history of customer feedback that shows your superior commitment to customer service.
Follow Us on Social Media
BUT THE VALUE DOESN'T STOP THERE!
INTRODUCING:
CHAMBER UNIVERSITY
MARKETING COURSES FOR THE SMALL BUSINESS
Your online resource for self-paced, self-help online and offline marketing courses for the small business owner.
A NEW COURSE EACH MONTH
Every month we give you access to a new course covering best practices. From website optimization and business directories to social media marketing. Actionable step-by-step video-based tutorials for the business owner on a budget, or one who just likes a more hands-on approach to marketing.
BASIC AND ADVANCED LEVELS
Just need a little help setting up that Facebook page or YouTube channel? We've got you covered. Want to dive deeper and rise above your competition? We can help you get there, too.
COURSE CONTENT IS INCLUDED
Chamber University is a FREE benefit offered to our Chamber Boost members. As long as you stay an active member of the program, University access is completely free.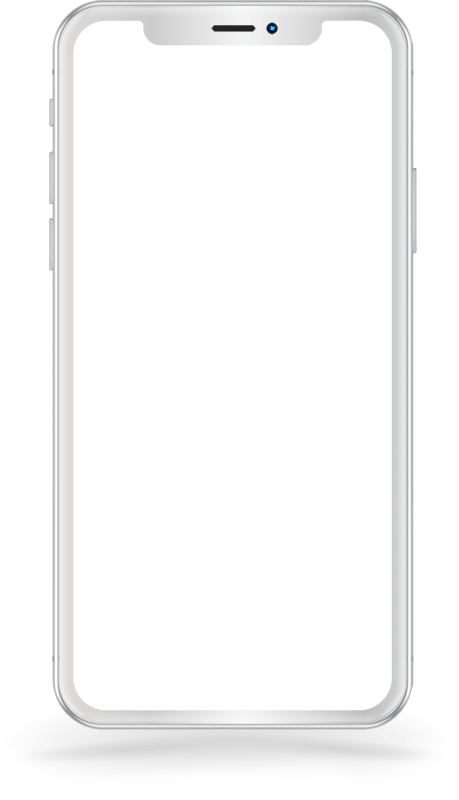 Is Your Chamber a Member Yet?
Your Best Value is Through a Chamber Partner
Invite Them to Contact Us For a Personalized Presentation
Schedule a 15 minute consultation. Get your questions answered.
Call For Inquiries:
Chamber of Commerce Member & Program DIrector
Bob Mankin
Email:
Get Started on Building Your 5-Star Reputation Today!
This site is not a part of the Facebook™ website or Facebook™ Inc. Additionally, this site is NOT endorsed by Facebook™ in any way. FACEBOOK™ is a trademark of FACEBOOK™, Inc.